Lottie animations are a new tool for businesses to add to their digital toolbox, but there are already a number of resources available for finding them. Here are the best Lottie animation libraries available for 2021 so far.
1. Creattie
Creattie's Lottie library consists of an impressive number of premium-quality animated icons and illustrations. With over # design assets and counting, the platform is among the largest available online.

One of our favorite aspects of the library is how usable it is. The designers at Creattie release animations in industry-specific collections so you can use them throughout a project keeping a cohesive look.
In addition, the editor allows you to customize each design incorporating your style and branding into each Lottie animation. The editor also features the following functionalities:
Skin tone customizer
Choose from full-color spectrum or HEX code
On-page color selector
Adjust speed, delay, trigger
Use the static or animated version
Incorporating your fully customized designs directly from the Creattie editor is also extremely simple. You can Embed the code snipped or download the file in Lottie JSON, GIF, MP4, or PNG sequence.

If you want to try Creattie to get a feel for the library, hundreds of free designs are available.

Pros
-Consistent, high-quality artwork
-Industry-specific collections
-Easy-to-use editor with unique features

Cons
-The library could be bigger
2. Lordicon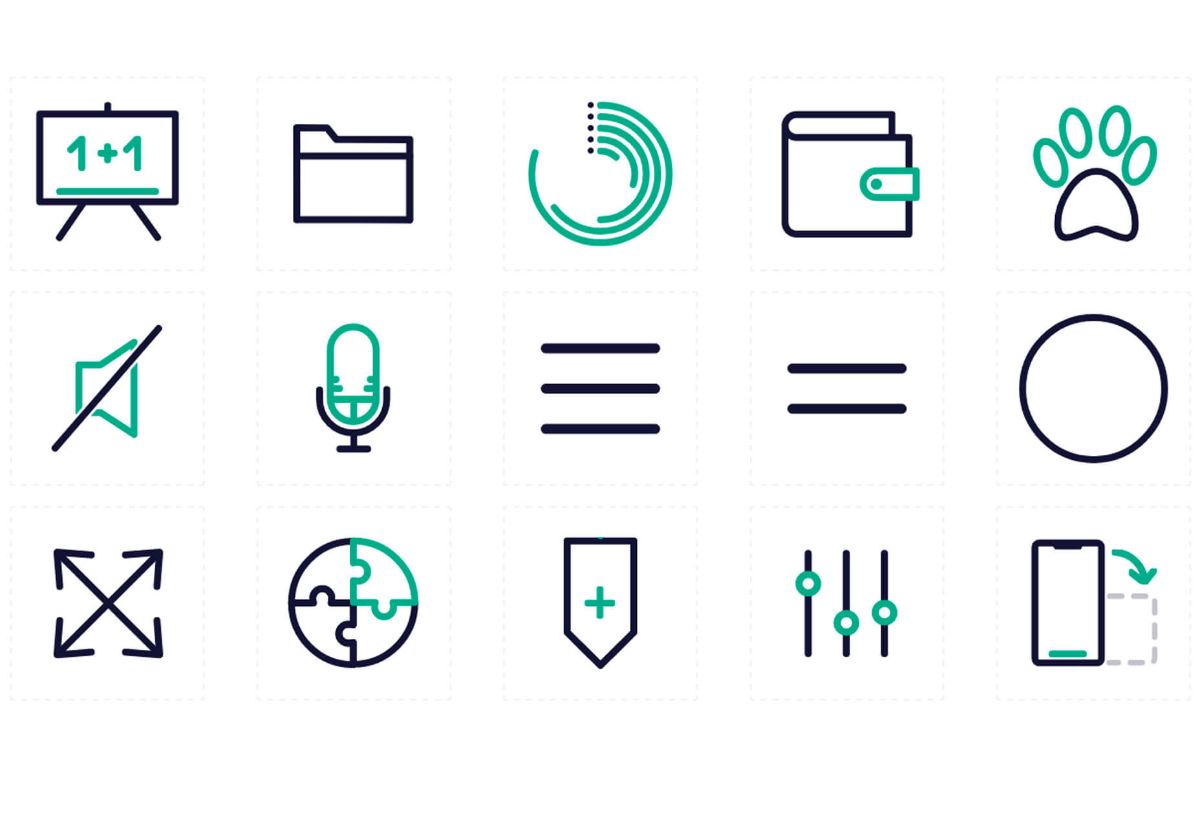 If you are only looking to incorporate animated Lottie icons into your designs, Lordicon is an excellent option. While the platform doesn't offer any animated illustrations, they have an extensive selection of 7,462 animated icons, 1,490 of which are 100% free. Another solid choice for just icons is Flaticon; however, their inventory is significantly smaller than Lordicon.
Inside the platform, you'll also find an editor which works intuitively and will allow you to make minor changes such as adding any color you want, changing width and scale, and downloading the file as JSON, GIF, SVG, PNG.
For all the Lottie animations and editing features, the platform offers a rather reasonable price plan. For $16 monthly you'll get access to all files and features with unlimited downloads, which is a great price for the resources you're getting.

The Lordicon platform includes a highly intuitive editor that enables minor changes…

Pros
-Extensive icon library
-Highly usable editor
-Multiple design styles

Cons
-Limited to icons

3. LottieFiles
LottieFiles is known for its extensive library of paid and free Lottie animations. However, applying multiple designs to a project can be challenging. There isn't much organization or cohesion to help designers build a complete website or application. In addition, because the platform consists of hundreds of 3rd party designers, there's a lack of quality control we'd like to see for a professional web design library.
One of the advantages of using the platform is that you can make some basic edits to your Lottie animation right from their website. Changing text layers and colors can be done in a few steps. LottieFiles also features numerous integrations and plugins, making the technology accessible with popular design software, CMS, and productivity tools, including:
After Effects
Figma
Google Workspace
WordPress
Webflow
Visual Studio Code
For those looking for something custom, the platform offers the resources to hire Lottie animators. Although the community of available animators here is significant, you'll likely have difficulty finding someone to create unique animations for your project.
Pros
Extensive library
Integrations and plugins
Resources for implementing Lottie
Cons
Lack of consistency in design style
No quality control
4. Drawer
Drawer is another Lottie library offering Lottie animations with both paid and free options. Although it's not a big library, you can still find Lotties that could potentially complete your digital design by making it more interactive and professional.
Behind Drawer stands a small team of three that work hard to deliver the best designs they can. Although the library of ready-made Lottie animations isn't big at the moment, they're promising to scale the platform with more Lottie animation packs. By purchasing Lottie animations from Drawer, you also get the After Effects source files, so it will be much easier for you to add changes to your animations.
Pros
Designs are organized in collections
High-quality work
Source files are included with the download
Cons
5. Envato
Although this platform doesn't provide Lottie animations by default, a little trick here will help us out.
As many of the files here are created using AfterEffects, the only thing we'll need is to separate those files. Simply choose 'video templates' in the search bar and type in 'bodymovin' and the results will get you over 700 AE video templates which you can download using LottieFiles or the BodyMovin plugin.
The downside is that it's hard to find specific Lottie animations here, as the search button is not customized for that. But if scrolling down through those 700 results sounds OK to you, then you should definitely check out these animations cause you'll find some really cool stuff here.
Pros
Extensive selection
Content beyond just Lottie
Cons
6. IconScout
IconScout is a vast marketplace offering 3D illustrations, Lottie animations, illustrations, and vector icons. The selection of Lottie animations alone exceeds 130,000 designs, and they claim to add 2,000 each week. Searching for designs is relatively easy, considering there are hundreds of contributors to the marketplace.
While IconScout is a great option for Lottie illustrations and icons, the quality is inconsistent because they platform 3rd party designers. In addition, you'll have to pay a yearly fee if you want access to the library.
Pros
Huge marketplace
Tons of different collections
Easy to navigate
Cons
Inconsistent quality
Billed annually
7. Icons8
While Icons8 specializes in animated and static icons, they offer a wide range of web content, including illustrations, photos, AI-generated images, and even music. The platform also features design tools such as a background remover and templates.
Icons8's Lottie selection is limited; few designs are available to download in JSON, and you cannot access an editor. However, the platform is great for finding free content and exploring other design libraries and tools.
Pros
Diverse selection of content
Features resources, tools, and other design platforms
Icons8 Plugin
Cons
Limited Lottie animations
No editor to customize designs
8. LottieFolder
If you're looking for graphics a bit more minimalistic, then LottieFolder is exactly what you should check. The platform categorizes its collections in different animation styles like drawing, animation with graphic elements, etc. If you're looking for specific animation styles for your Lottie project, this platform may be useful for you.
Pros
Well-organized library
Large selection of animations
Cons
Complex illustrations are questionable in quality
9. LottieFlow
LottieFlow offers Lottie icons for Webflow users. This is a huge library for different icons, all with customizable colors.
The platform offers icons in 21 different categories that promise to work perfectly with Webflow interactions. You can also find a full course of tutorials right on their website on how to add those Lottie files to your projects. The only downside here is that there are no specific designs and all the icons look quite simple. But as a free solution, I think this option is something you could also consider.
Pros
Free platform
Helpful tutorials
Cons
10. Motion Elements
Motion Elements is a huge platform for creatives to collaborate and sell. Here you'll find Lottie animations from creatives around the globe. From the best Lottie animations to the worst, you'll find a wide range of options.
The one thing that makes this Lottie library impractical for me is that the distribution of the animations is not narrowed down to specific categories. This makes it hard to find relevant results.
Also, the search bar can't even manage to show results relevant to the search queries. Perhaps the reason for this could be the fact that creators are missing adding the right keywords to their projects so the search can't find them.
These things make it nearly impossible and very time-consuming for users to navigate the platform, but still, I'd advise keeping this platform in mind with the hope that one day they will fix those issues.
As the community grows, their Lottie animation library will grow too, but until there is an accurate search, there isn't much use with that either.
Pros
Massive library
Diverse selection
Cons
Hard to find relevant content
Poorly organized search results
Final Words -
These are my best recommendations for Lottie animation libraries in 2023. If you're looking for premium, high-quality Lotties for your business website, make sure to browse what we have to offer here on Creattie!