Animated icon libraries are used by developers and UI/UX designers, giving them instant access to various elements to add to web pages and online applications.
In this post, we cover the most popular options available today regarding cost, functionality, and accessibility. In addition, we provide our pick for the most cost-effective, customizable animated icon library on the internet.
Creattie
Creattie is a Lottie library featuring animated icons and illustrations with an extensive selection of designs. The award-winning motion graphics designers at Creattie have developed a unique collection of animated icons that are perfect for every industry.
You can choose from a downloadable static SVG file or animated Lottie code snippet to embed directly into your web page. The best part of Creattie…
The platform features an extensive selection of icons, illustrations, and animations available for free!
Creattie does offer flexible payment methods for advanced customization features. Unlike other animated icon libraries, Creattie only requires paying for what you use.
Below are the advantages of choosing Creattie's JSON-based library of animated icons.
Brand Customization
Lottie files are effortless to customize if you have a basic understanding of code and motion graphics. But the developers at Creattie make the process even more accessible by including front-end customization controls within the platform.
Choose between multiple styles, colors, and motion. In addition, you can customize how your Lottie animated icon will move on the page by picking its size, speed, and frame rate.
Full Lottie Embedding
Adding a Lottie animated icon from Creattie is as simple as copying and pasting a link. This is where Lottie has a significant advantage over SVG files. (link to SVG Vs. Lottie article)
Extensive Selection
Creattie features collections that include icons perfect for marketing, eCommerce, education, finance, technology, communication, and dozens of other categories. Thousands of icons are already available on the platform, and Creattie is adding more every month.
ANIMATICONS
Before Lottie animations were developed, GIF files were the best option for animated icons. The files are relatively small compared to PNG and JPEG, are easy to use, and work across all devices.
ANIMATICONS exclusively uses GIF icons and offers selections in packs. They only have one free collection that features 20 animated GIF icons (10 in color and 10 in black and white). While the icons look great, they are very specific and can't be used for multiple purposes.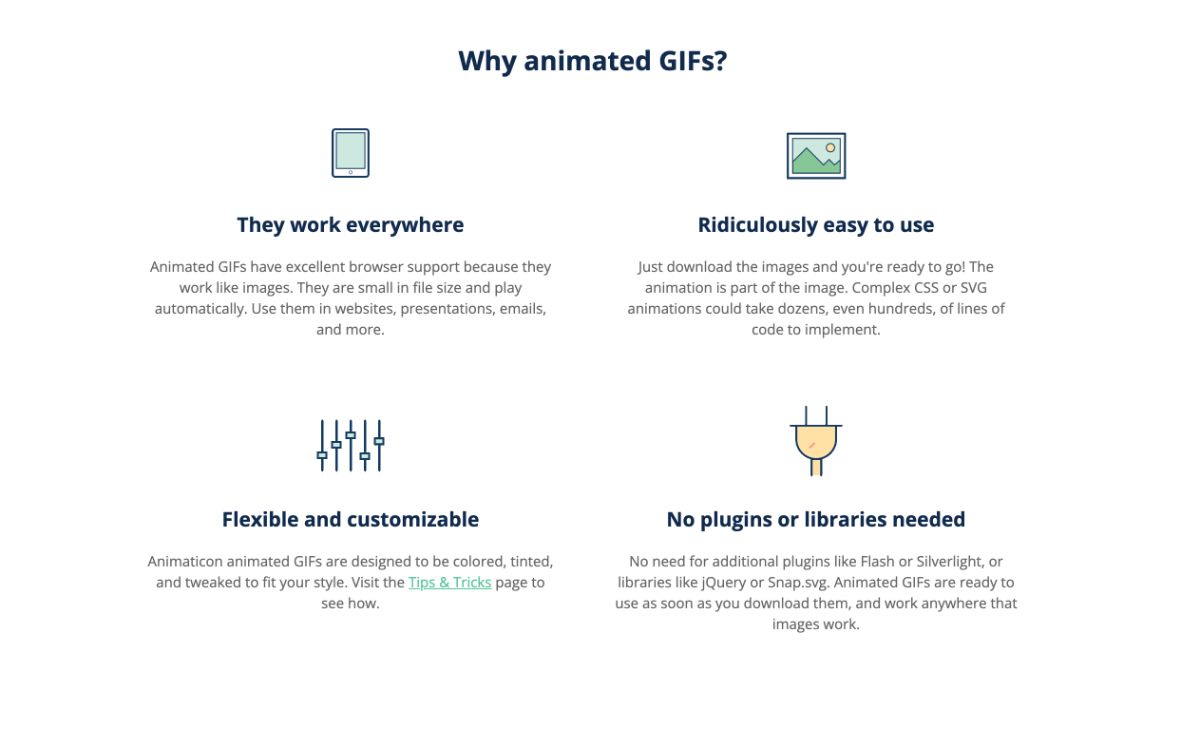 Paid packages feature 20-30 animated icons with half in color and half in black and white. The paid collections contain more designs, but overall, the entire selection ANIMATICONS offers is limited, with only 65 total unique icons.
While ANIMATICONS is affordable for high-quality animated icons, the selection is inadequate for a modern web developer or design agency. In addition, only offering GIF files limits customization and will slow page load speeds.
Lottie Files
Lottie Files features an extensive library of Lottie animations from various designers. While the collection is comprehensive, the platform relies on user-generated content. Designers from all over the world upload their animations in the free catalog or Lottie Files Marketplace.
The idea of a platform where motion graphics designers can show off their skills is incredible. However, if you are looking to use animated icons for web or app development, it is difficult to find usable, cohesive designs.
Another issue with sourcing content from thousands of designers is the quality isn't consistent. The marketplace is also relatively expensive.
If you are a motion graphics designer looking for a place to feature your Lottie animations, Lottie Files is an excellent platform, but if you are looking to use animated icons for web development, you may want to look at a more affordable, consistent source.
Lordicon
Lordicon has a massive selection of simple animated icons perfect for adding to web pages and apps. The designs are uniform, customizable, and available to download or embed using a variety of formats.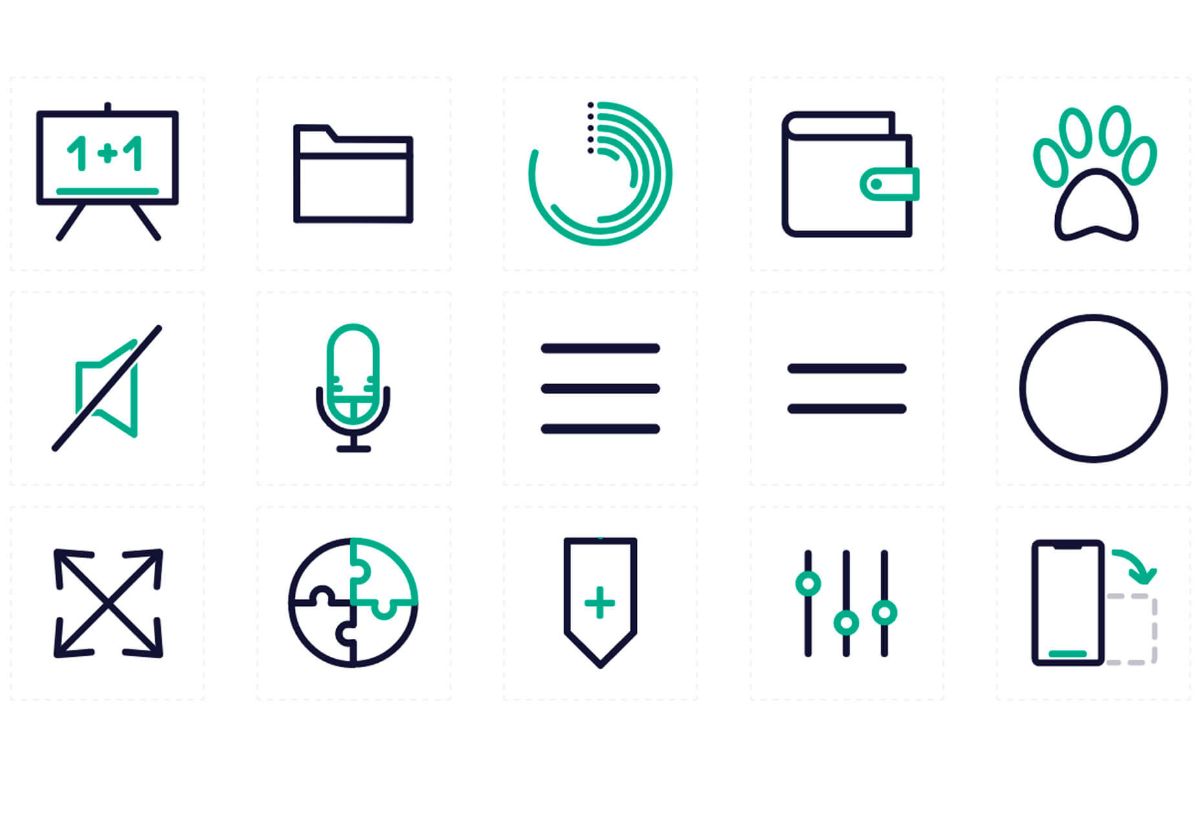 Unfortunately, Lordicon charges a monthly fee to access the entire library. With a price of $18 per month, you want to be sure you are consistently using the service.
Icons8
Another solid collection of animated icons is available from Icons8. The platform is one of the most popular libraries online because it has an extensive selection of high-quality animated icons.
Icons8 falls short compared to other animated icon libraries because access is expensive and has limited customization functionality.
Creative Market
While we are critical of icon libraries like Lottie Files, Lordicon, and Icons8, they are all quality options. On the other hand, Creative Market is a poor choice for animated icons. The platform has an extensive selection of static icons but misses the mark for animations.
Creative Market offers animated icons packs from 3rd party designers. The quality is questionable and varies significantly depending on the source. In addition, there aren't any customization features on the platform.
Envato
Envato is another available option you may consider; however, the library requires an expensive monthly payment to access animated icon packs from 3rd party sellers. The quality is inconsistent but skewing heavily on the low end. In addition, Envato doesn't feature a built-in editor to customize designs.
While quality work is shared on Envato's platform, most animated icon packs require software skills. You will have to be comfortable designing with Adobe After Effects to customize the icons and export them in JSON before they can be used in your web and app projects.
Final Words
There are many animated icon libraries available online. However, Creattie is the only platform that offers an extensive, fully customizable Lottie animation library with flexible, pay-as-you-go payment options.
For more information on the Creattie animated icon library, click here.
Lordicon is also a solid choice if you don't mind paying a monthly fee. The platform features high-quality animated icons and is updated with 50-100 new additions monthly. However, Creattie's library is more comprehensive and 500 new icons added monthly.